F.A.Q.s
How much Active Stem should I order?
On average, new customers order 3 bottles. That's what we recommend to start. However, because it's our best value, many customers enjoy our 6 bottle package.
What's inside Active Stem?
Each serving of Active Stem contains a powerful 1400 mg blend of:
L-carnosine
Leucine
Vitamin D3
Green Tea Extract
Blueberry Extract
These 5 ingredients are vegetarian, and free of lactose, additives, gluten, and preservatives. The container is BPA-free, airtight, and resistant to heat and light.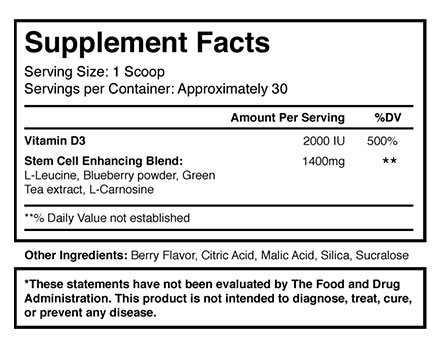 Plus, LCR Health utilizes third party laboratory verification to guarantee purity, potency, and quality of ingredients.
What makes Active Stem different from other anti-aging supplements?
Whereas other supplements employ nutrients which may help with your immune system or provide heart support – Active Stem works on a cellular level by boosting the proliferation of adult stem cells – or "master cells" – in your body.
This repairs damage to your muscles, organs, skin, and brain. Specifically, the 5 ingredients in Active Stem have been shown to increase proliferation of human CD34+ and CD133+ cells, a vital part of your body's cellular function.
And remember: Active Stem is the only supplement EVER to combine these 5 cellular boosting ingredients.
Lots of Active Stem users also take additional supplements such as resveratrol, glucosamine, fish oil, etc. – and it's totally safe to do so, too.
These supplements will NOT interfere with the potency of Active Stem, because it works in an entirely different way.
How do I take Active Stem?
Just blend, stir, or shake-up one scoop of Active Stem with 12 ounces of water and drink daily (ideally on an empty stomach). Active Stem easily dissolves and has a delicious berry taste.
Rest assured, each ingredient in Active Stem is bioavailable, meaning once your stomach absorbs it — it will work to boost your cells all day.
(Note: You DO NOT have to refrigerate Active Stem. But if you do, it won't impact its quality or effectiveness.)
Can I take it with my other medications?
All 5 of Active Stem's ingredients are entirely natural nutrients and can be found in food products, as well as your own body.
Plus, Active Stem is third-party tested and proven safe, with no side effects. Still, always consult with a physician before starting any new supplements.
Who should take Active Stem?
One of the best things about Active Stem is it can work for anybody… at any age! That's because this amazing formula is shown to boost YOUR adult stem cells, which fade as you age.
So if you are experiencing low energy, mental "fog," loss of stamina, and just a general hard time doing the things you love… Active Stem is for you.
Is there a guarantee?
Of course! LCR Health offers a full Ironclad 90-Day money back guarantee on every one of our products. So if you're not absolutely thrilled with Active Stem, just send it back and we'll give you a full refund. Guaranteed. No questions asked.
What's LCR Health?
LCR Health is a nutraceutical company in Los Angeles, California. We develop cutting-edge supplements to raise the quality of life for our clients. As always, we only use safe and effective ingredients. Each batch of Active Stem is tested not just at our lab, but at an independent third-party facility, too. So you know it's safe and effective.
Plus, we are committed to amazing customer service. If you have any questions you can reach us by phone at (844) 650-5933 between 6AM and 6PM (PST) on weekdays, and between 6AM and 4PM (PST) on weekends.
Or you can email us at [email protected]
When can I expect to receive my order?
We typically ship Monday through Friday, and always within 24 hours of receiving your order.
Depending on your location, please allow between 2 to 7 business days within the U.S.
The LCR Health Difference
---
Pure Ingredients
Active Stem is vegetarian, gluten free, lactose free and friendly for all dietary considerations. We would never use a potentially harmful synthetic additive like magnesium stearate.
Highest Quality Bottles For Longest Shelf-life
Here at LCR Health we take the utmost pride in our products and formulas. Our bottles are designed with a special UV protective barrier to make sure the Active Stem you order today will stay at its highest potency.
Third-Party Tested For Your Safety
We hold ourselves to the highest manufacturing standard in the entire supplement industry. Our products are subjected to rigorous third-party testing by multiple independent laboratories. These tests ensure our capsules only contain 100% pure ingredients and also that they are completely free of dangerous heavy metal and all biological contaminants.
90-Day 100% Money Back Guarantee
---

(Less S&H)
LCR Health is proud to offer a 90-Day, Ironclad Guarantee on every single order of Active Stem. If for any reason this revolutionary formula does not meet your expectations, simply send it back for a full refund of the purchase price. You can even use the entire supply and simply send back the empty bottles — that's how confident we are that you'll love this incredible health breakthrough.
Order Now